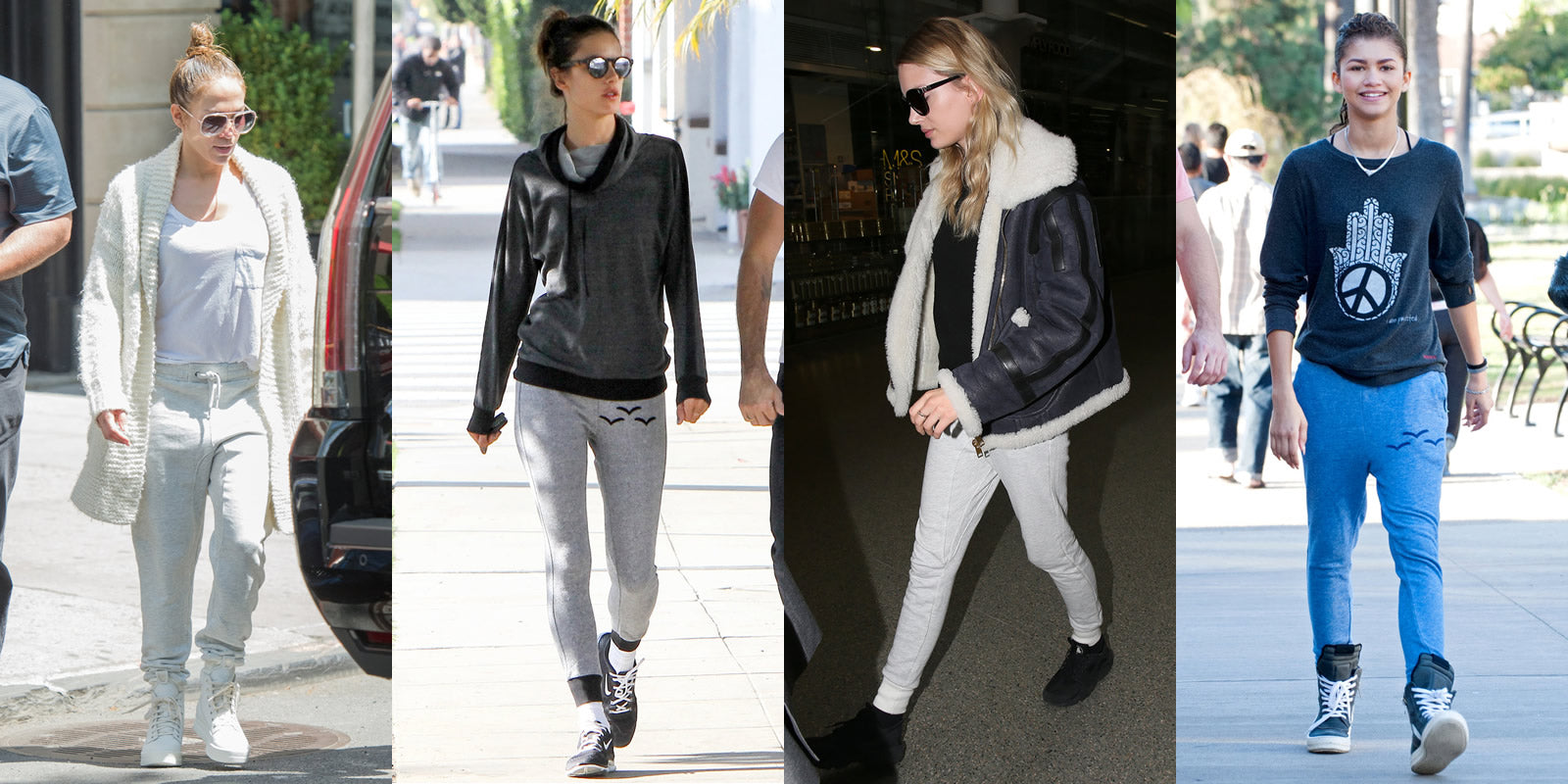 Celebs who rock the lazy look in style with Lazypants!
Hey Lazy squad! Ever wonder what your favorite celebrities wear when they aren't walking the red carpet or getting dressed to impress for a night out? We've spotted some of our fav stars who know how to rock the lazy look better than ever while wearing their favorite sweatpants, Lazypants! In between their hectic schedules or on the weekend, they know how to stay cozy and comfortable while looking stylish, no matter where they go.
 If you've been "Keeping up with the Kardashian's", you've undoubtedly noticed that they're always on the go. From award shows to airport arrivals, or shopping on Rodeo Drive, they're always ready for the paparazzi to show up. Looking real snug, yet staying in style, Khloe Kardashian is jet-set in the Geoffrey Relaxed Joggers, while her sister, Kourtney Kardashian, keeps it casual and comfy in her Lazypants Niki's while treating her little ones on a Sunday-Funday.
The flawless and talented Jennifer Lopez rocks the Geoffrey Relaxed Joggers with a simple crop top on a make-up free, messy bun kind of day in the city. Lily Donaldson looks cozy to the touch and effortlessly cool wearing the Seasalt Geoffrey Joggers while being out and about in London town.
"High School Musical" sweetheart, Vanessa Hudgens makes going and coming from Friday morning Pilates class look like a breeze in the Parker Skinny Lazypants. Hailey Baldwin, without a doubt, makes chilling at home look as cute as can be in her Lazypants!
And last but not least, Victoria Secret model, Alessandra Ambrosio makes her lazy OOTD look extra chill wearing The Niki Original Lazypants in Liberty.
Caught in the action or posing for an Instagram selfie, these girls show off how you and your girlfriends can get the best of both worlds with your Lazypants. Look casual yet active and feel comfy yet upbeat while wearing your coziest sweats out on the streets. Whether it's to and from the gym, out for a Saturday brunch, or for a morning coffee run, these celebs prove that you can rock your Lazypants anywhere and everywhere you go.
Sending love & lazy vibes your way, The Lazypants team